Every beginning of a new year comes with it high note, high node, with high resolutions as more people set goals, with motivation to achieve their goals for the new year
While many give up underway, then wait for the year to come to an end and make a new year resolution again the next new year. LOL
This can go on and on, year in year out, people, lot of people keep doing this. Then lying to themselves repeatedly
But if we are to cut in the BS. Are you going to hit your goals this year or are you just going to quit after a month like a majority of people? Do
I know it sounds harsh, but that's the reality. let not fake it, that is the life style of many
The difference between people who achieve their goals and the people who sit on the sidelines is honesty. So Be Honest To Your SELF
Today is Day 14th Of January from my Home Africa Nigeria, so friend, Be honest to your self, how ready are you this year to achieve your goal, Be Honest
For Achieving your goals starts with being honest with yourself.
Everyone likes the idea of being in great shape... being your boss... Having financial freedom, everyone love to be wealthy, live the good life and be a greater sources of blessing to the world around us, everyone loves freedom, doing what you love for income... but this all requires work and honesty
Unfortunately, most people lie to themselves when they say they're willing to do whatever it takes. They say they're going to do something because the idea sounds nice when in reality they know they're lying to themselves.
That's why year after year some have life-changing results while others are left with another year of wasted potential. Not your potion this year Friend
The worst part is all they do is REPEAT THE CYCLE OF BROKEN PROMISES.
It's bad enough to lie to others, but lying to yourself is the worse, is a crime against yourself and those that truly loves you
Please love yourself enough to make right on the promises you tell yourself. I want to see you grow. I know you can do it, get started now by Visiting www.NairaLEARN.com and start your online learning, make plans to learn new skillset this year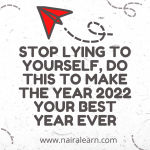 Cheer
P:S: Click Here To Visit NairaLEARN and Start Your Online Learning, Grow Your Career and Skill, Grab The NairaLEARN Courses Here NOW
Cheer Once More