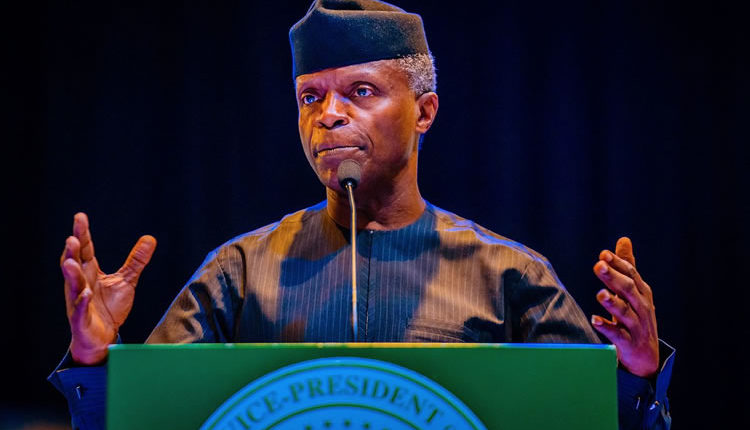 The Vice President, Prof Yemi Osinbajo has commended some Nigerian Banks that are making in-roads into other African countries, saying that they are more positioned to benefit from opportunities provided by the Africa Continental Free Trade Area (ACFTA).
They are Access Bank, United Bank for Africa. GTCO and Zenith Bank.
He however challenged banks to prepare for increasing trade in their involvement as negotiators, stressing that lenders should be open to other players in the financial technology space.
The vice president made this comment at the Chartered Institute of Bankers of Nigeria (CIBN) 14th Annual Banking & Finance Conference held today, September 14th, 2021.
Also speaking, the Group Managing Director, Access Bank Plc Dr. Herbert Wigwe also challenged bankers to focus on the future of banking rather than what "used to be."
Wigwe who is also Chairman of bank chief executive officers commended the participants saying that this years conference is apt in this period of economic recovery.
Meanwhile, Osinbajo further said that Housing Finance has a huge potential to assist in developing the Nigerian financial sector.
The Vice President was of the view that there exists a level of interaction between the housing finance and development of the financial sector which would in turn shape and contribute immensely to economic growth.
He said, "There is a symbiotic relationship between housing finance and the financial sector development itself and also contributes to economic growth."
He continued by saying these are the justifications that prompted the setting up and establishment of the mass housing initiative in the Economic Sustainability Plan. He stated that these are the justifications that have been considered especially with respect to the mass housing program.
Furthermore, he maintained that challenges have arisen with respect to full implementation of the program, which is, the unwillingness of the finance sector and its inability to find the right housing finance model that would work due to the lack of a functional mortgage market that has effectively left out our economy from the most reliable source of generating capital for individuals.
He stated that other issues affecting housing finance in Nigeria include appropriate pricing of mortgages which has made the initiative less attractive to banks compared to treasury bills investments while mortgaging would be at a premium.
According to the VP, banks have also opined that sterilizing their assets as non-interest-bearing cash reserves, impairs their liquidity and return on assets. However, the CBN has allowed the use of bank CRRs to support development projects.
In addition, he mentioned land tightening issues associated with perfecting property titles which are problems only state governments can solve. He said the administration has been working on this issue with state governments in particular and progress has been recorded with Lagos and Kano state governments under the ease of doing business initiative.
YOU SHOULD NOT MISS THESE HEADLINES FROM NIGERIAN TRIBUNE
Buhari Urges MTN For Quality Service, Downward Price Review In Cost Of Data, Other Services
President Muhammadu Buhari Friday at State House Abuja urged the MTN Group to make the available top-of-the-range service to its Nigerian subscribers… Osinbajo commends Access Bank, others on cross border expansion Osinbajo commends Access Bank, others on cross border expansion Osinbajo commends Access Bank, others on cross border expansion Osinbajo commends Access Bank, others on cross border expansion.