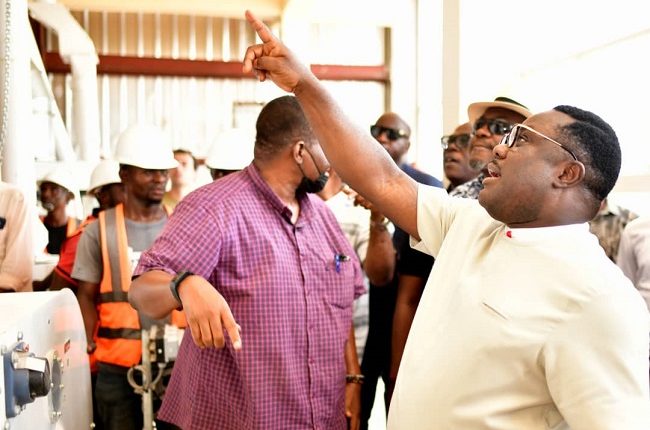 It was excitement galore in Cross River State as Ikom Cocoa Processing Factory, established by Governor Ben Ayade-led administration commenced the production of chocolate bars on Tuesday.
Speaking shortly after being conducted around the various production chains of the factory, Governor Ayade said the time had come for Africa to begin to reap the full benefits of its cocoa value chain.
He regretted the fact that although Africa "accounts for eighty-six percent of world cocoa production, unfortunately, in terms of the economy, gains only six percent which means that Africa produces 86%of cocoa, export the cocoa beans and in turn goes back and import chocolate into Africa".
"This process has come to an end. So what you find here is a full cocoa processing plant from the tree to chocolate for final consumption", he enthused.
Disclosing that the beneficiation process had so much value, the governor said "the process is very clear. It starts with separation and then cleansing until you get clean beans. The clean beans go through a complete conveyor system and go through the process of fermentation, maturation and drying until you get to a point were you get the product you want."
Ayade said the chocolate from the Ikom Cocoa Processing Factory is special in the sense that "it has a slightly bitter taste, which is what is now desirable as opposed to the very sugary, very sweet and fattening products that are very unhealthy".
"For our own chocolate brand, we try to use the best of the ingredients which contain that slightly bitter taste, which is an antioxidant that is particularly good for the body", he added.
Urging Nigerians to take advantage of the uniqueness of the chocolate from the factory, he said "it is very important for you to know that as we debut with Ikom chocolate, know that It is African chocolate, 100% organic, grown in African soil, processed in Africa and made available to the world."
The governor who expressed excitement at the commencement of the production of the wholly made in Nigeria chocolate, said: "I feel very very gratified that today we are about to start the commercial production of chocolate in Ikom, Cross River state of Nigeria."
Justifying his venture into agro-industrialization, Ayade explained that "the process we have in place is a necessary requirement to actually create jobs for the teeming youths. If 65% of our 4.5 million population are young people under the age of 35, and if we cannot create jobs, it means that you are going to have more and more #endsars like protests.
"So my inspiration was to actually create jobs and the best way to create jobs is through agro-industrial revolution and that is what this cocoa processing factory stands for."
YOU SHOULD NOT MISS THESE HEADLINES FROM NIGERIAN TRIBUNE
Buhari Urges MTN For Quality Service, Downward Price Review In Cost Of Data, Other Services
President Muhammadu Buhari Friday at State House Abuja urged the MTN Group to make the available top-of-the-range service to its Nigerian subscribers… Cross River cocoa processing factory begins chocolate production Cross River cocoa processing factory begins chocolate production Cross River cocoa processing factory begins chocolate production Cross River cocoa processing factory begins chocolate production.